HOW DO WE DECIDE WHAT GOES INTO OUR PRODUCTS
Many factors such as effectiveness, tolerance and origin play a major role for us in the selection of our ingredients. We often have to weigh up which aspects we give more weight to. That is not so easy! If a raw material does not quite meet our expectations, we will of course be honest with you. In order to shed light on this, we have clearly presented our decision-making process. The explanation of the individual steps can be found below the graphic.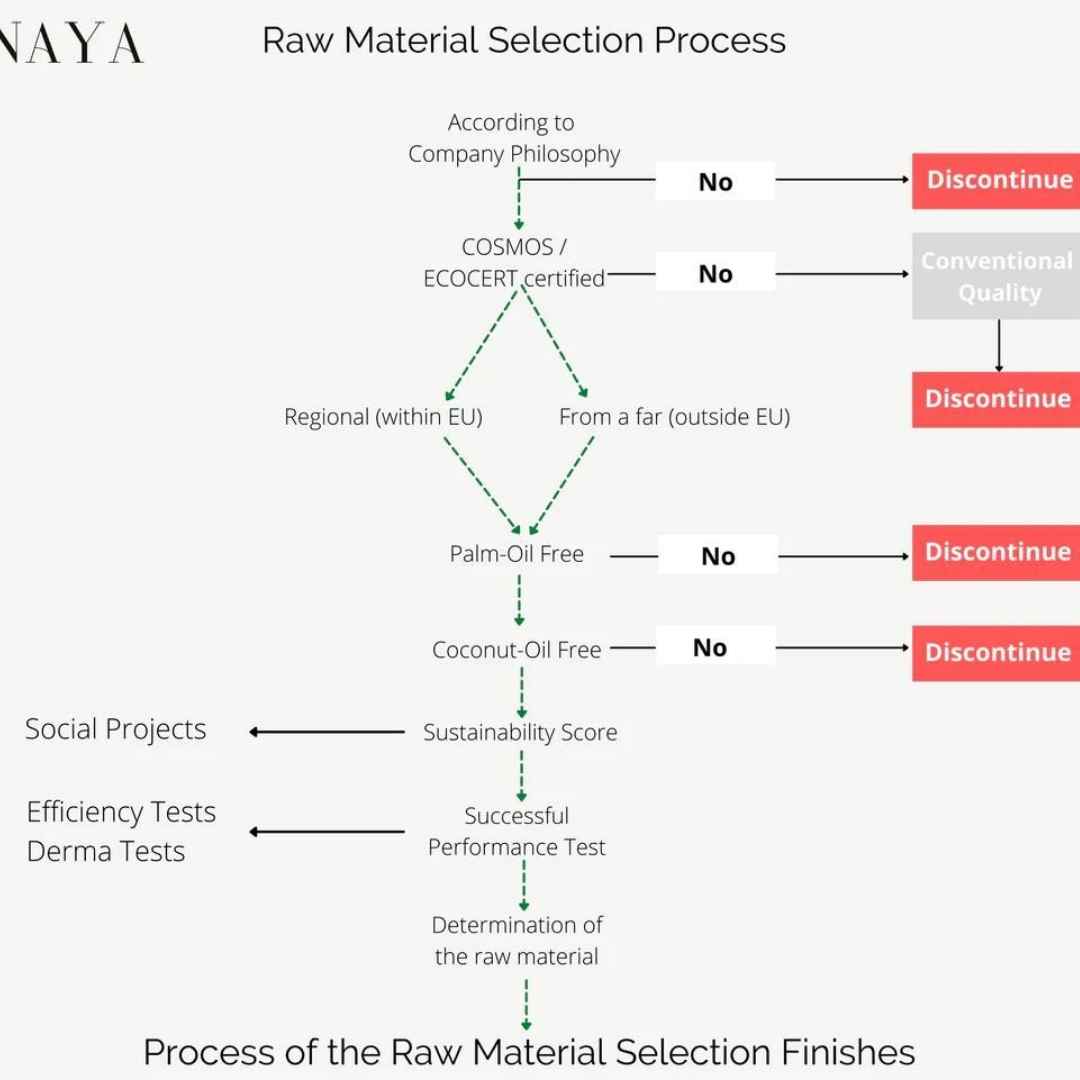 How we select our raw materials
Vegan & Animal Friendly
Silicone Free
PEG Free
Microplastic-free & Nanoparticle-free
Without addition of drying alcohols
Without addition of aggressive surfactants
Without addition of parabens and declarable preservatives
Without addition of unnecessary fillers and additives
Without the addition of perfume and fragrances
If one of these criteria cannot be met, we do not use the raw material.
We give preference to raw materials with organic, vegan certification and from regenerative agricultural methods.
If the raw material is available regionally (at least within Europe), it is preferred by us. The more regional a raw material is, the better. However, we do also want to combine them with unique and newly discovered ingredients from a far to provide you effectiveness. 
We don't use palm-oil and it is an absolute no, no for us. Even the hidden kind of stuff. Unfortunately there are a lot of those where palm-oil function as the base. Don't be fooled! There are many ingredients being used in formulation that might not be clear they are palm-oil based. So watch out for words ending in "-palmitate" such as ingredients like the new oil-based Vitamin C called Ascorbyl Tetraisopalmitate  which one can find in any oil-based Vitamin C product. 
We also do not use coconut as a base! This is a cheap filler and also an absolute a no, no. In addition, coconut oil is often mentioned as an alternative to palm oil. What is often forgotten, however, is that the production of coconut oil also requires cultivable land, just as it does for palm oil. The only difference is that the coconut palm is much less productive than the oil palm. On the same area, we get 3.3 tonnes of oil per hectare from the oil palm as opposed to only 0.7 tonnes of coconut oil. So in addition, coconut oil uses up a high level of CO2. 
The raw material is evaluated according to CSR (Corporate Social Responsibility) aspects. This includes responsibility towards society, the environment and the economy.
Environmental and resource-conserving handling: What methods are used in cultivation and harvesting?
Is attention paid to the protection and preservation of biodiversity and species diversity during cultivation and harvesting?
Does the raw material supplier have specific, internationally recognised certificates, e.g. Regenerative Organic Certification™️, Fairtrade seal for cosmetics, (Fair) For Life, CO2 certificates, etc.?
Social standards: What are the working conditions like on site?
Are workers paid a fair wage?
Is child and forced labour excluded?
Are social projects supported locally to preserve nature or improve the lives of people and animals?
Is the raw material available in sufficient quantities so that it can be ordered from a supplier?
These criteria, for example, play a role here:
How compatible is the raw material on the skin?
How does the raw material smell
How pleasant is the feeling on the skin?
Can a stable and microbiologically safe formulation be guaranteed with the raw material? Etc.
After all criteria have been evaluated by us, our new ingredient is only finalised.
DO YOU HAVE RAW MATERIALS THAT COULD BE A GOOD FIT FOR US?
Your business is the fair and sustainable production of great raw materials? And you have the impression that your business could be a good fit for us? Then contact us directly. We are always happy to receive new, valuable input and are also very happy to support smaller producers.
Our Customer Care Team looks forward to get to know you. 
Contact us here